With her fashion label Kasbah Kosmic, Brussels designer Kenza Vandeput-Taleb links the cosmoses of North Africa and the West, although she mostly fights against colonisation in fashion. "I want to reclaim my cultural heritage."
Even as a young child, clothing was the ideal medium for Kenza Vandeput-Taleb to express herself and shape her identity. Vandeput-Taleb, now 30, was born in Uccle to a Belgian father and Algerian mother. "I grew up between two worlds, worlds that quickly came together in my clothing style. I loved browsing through my mother's wardrobe, full of beautiful clothes from Algeria, and finding things to wear." Her love for second-hand clothes is also rooted in her childhood. "I often accompanied my mother to second-hand shops. I soon saw that they had really beautiful pieces."
Vandeput-Taleb founded her own fashion label Kasbah Kosmic in 2019. With the label, she offers a colourful, playful mix of North African and Western fashion with upcycled and personalised creations. Sportswear played an important role in the collection from the beginning, including boxing clothes. This came to the attention of the curators at MIMA while they were preparing the exhibition Local Heroes, which is dedicated to art about the noble art of boxing. Vandeput-Taleb created unique combat clothing for the expo, which will not only be on display, but also worn during fights. For the four-month expo, a boxing ring will be installed at MIMA where members of the Brussels clubs BBA and IBP will display their boxing skills.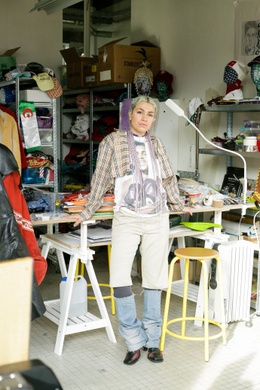 How familiar are you with the boxing world? Spent any time in the boxing ring yourself?
KENZA VANDEPUT-TALEB: Hours and hours as a teenager. I trained four times a week for years. It allowed me to blow off steam and made me more self-confident. At that time, I was also the only girl in the club, which fits in with who I am. I like to be different. (Laughs) I even had ambitions of becoming a professional boxer, but injuries blocked that and I also struggled with the extreme discipline the sport demands of you.
So I stopped, although designing the MIMA expo meant I did go back to the boxing club. I wanted to immerse myself in that world again, to sense it. By the way, it was great to see how many girls are boxing now. Including many Muslim girls boxing with a sports hijab. I designed sportijabs for the MIMA collection, too.
How did you translate your philosophy on fashion into the clothes worn by the boxers in the MIMA?
VANDEPUT-TALEB: They are largely based on traditional clothing from North Africa. Take, for example, the kachabia, a long coat for men, with a characteristic pointed hat. Its concept formed an ideal basis for a boxing jacket, which also always comes with a hood. The robes of shamans, spiritual healers, were another source of inspiration. Not only their robes, but their rituals too. There is a very ritual character to entering a boxing ring. The clothes have inscriptions in Arabic, such as the word "respect".
I also picked up a lot from great shows of American boxers during fights in Las Vegas. As always, I play with logos from big Western brands, such as Adidas and Nike.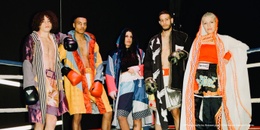 Can you give us an insight into the methods you use to give second-hand clothes another dimension in their second life?
VANDEPUT-TALEB: Embroidery, screen printing, sublimation, patchwork, dyeing, hand painting, cropping… I use a lot of symbols, logos and texts…and a lot of bootleg.
Bootleg?
VANDEPUT-TALEB: Bootleg looks like imitation clothing, but the idea is not actually to mimic the original brand as much as possible. Instead, you mock the brands with subtle winks. For example, by changing something about their logo, like Lacoste's crocodile. This is how you undermine them, by not taking them seriously.
Why do you only work with second-hand clothes and not new ones?
VANDEPUT-TALEB: Because my label is also about sustainability. We must fully engage in the ecological transition now, we have no other choice. If you see how much second-hand material is available for sustainable fashion… It's not easy though, it's complex work, it takes a lot more time than working with new fabrics.
There is also a negative evolution going on in the second-hand sector at the moment with more and more fast fashion creeping in. Pieces that are of such low quality that they are not really suitable for a second life. Clothing that is made for disposable consumption.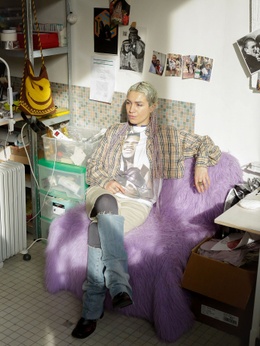 You have had your studio at the MAD Incubator in the Anneessens area since last September, where you can stay for two years. How important is that to you?
VANDEPUT-TALEB: This is a huge help. You're there with other designers, you are coached, they support you with promotion… You really are their baby here, they want to raise you for two years. (Laughs) It's a big difference from working in my own living room, as I did for a long time. But I have fond memories of that, too. For many years, I also combined design with social work in a school in Molenbeek.
Has your experience from social work impacted your fashion label's philosophy?
VANDEPUT-TALEB: It helps make sure that I value inclusiveness. Financially, too. There is certainly a cost to the fashion I make, but I also always produce more affordable pieces. It must not be an elitist fashion. Everyone should have the chance to wear sustainable clothing like this.
You have not done any of the typical courses, although I've been told you did spend some time at the Antwerp Fashion Academy school.
VANDEPUT-TALEB: True, I don't have a degree in fashion design. So that is why I am an outsider. (Laughs) I did study at the Francisco Ferrer college in Brussels and even spent a year in Antwerp. The feedback I got there was that I should quit, that I had no future as a designer. In theory, I could have persevered, but I could not accept behaviour like that. You don't say things like that.
You are busy proving them wrong. Finally, the name Kasbah Kosmic sounds good. But what does it mean?
VANDEPUT-TALEB: Kasbah is Arabic for the centre of a North African city, where a lot of energy is pooled together. Kosmic refers, among other things, to the dream of the infinite nature of clothing, the ideal of reusing materials again and again. But it is also a reference to my father, who was passionate about space travel. He even wrote a book about it, Spoutnik. I keep it with me on my workbench at all times.
Related Posts