Sydney and Mia Italiano are no strangers to the Denver rave scene. 
After all, their family business FashioNation has been styling Denver alternatives for over 35 years. Plus, Sydney's been raving for the better part of the last decade, bringing her younger sister Mia into the scene almost three years ago.
Read: FashioNation: Home to Denver's Alternative Fashion Scene
This experience is especially handy ahead of festival weekends in the city. Namely, Sydney and Mia are gearing up for one of Denver's newest festivals, Meow Wolf's Vortex.
Vortex is taking place in the heart of Denver at The JunkYard this weekend, August 25-27. Mirroring the essence of Meow Wolf, the outdoor arts and entertainment space will transform into a multi-stage immersive musical dreamland for three nights. 
To prepare for a weekend of festival fashion — and Vortex's unique bizarre and dreamy vibes — Sydney and Mia shared their best tips for expressing yourself in the crowd and surviving long days on your feet. 
Stay Cool and Look Hot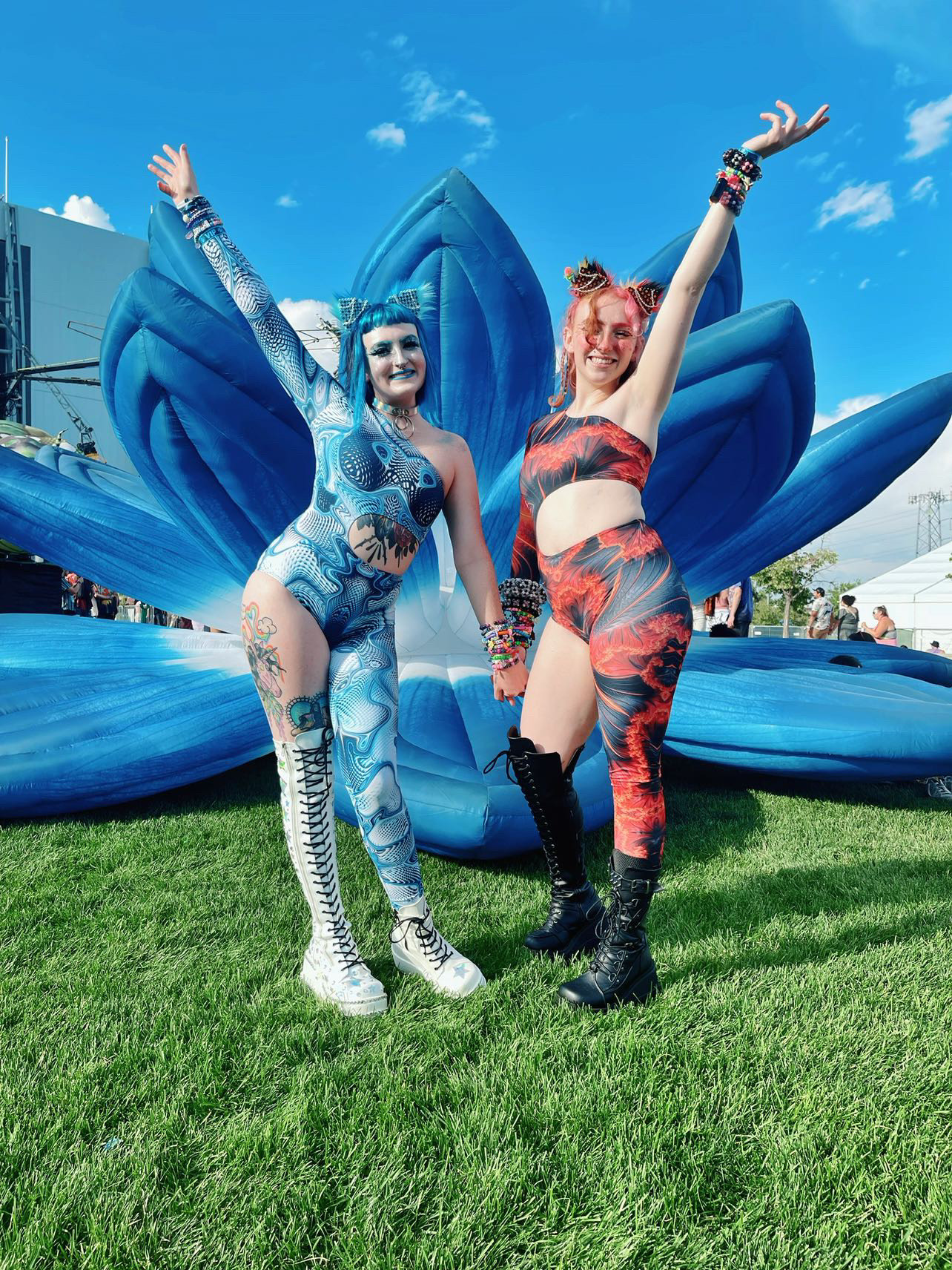 Surrounded by thousands, dancing your way through each set, sweating is an unavoidable reality at festivals. According to Sydney and Mia, a great way to stay cool and comfortable on the floor is to use your accessories to your advantage. 
Hand fans are not only popular festival fashion accessories — they're also a practical way to get some air flowing. Additionally, adding fishnets and leg wraps to bikinis or smaller sets is a great way to elevate your look without adding heavy layers. 
However, staying cool doesn't have to mean bearing it all. "I think it's important to just be comfortable," Mia said. "You don't want to go to your first festival naked if you're not comfortable."
One trend to avoid when looking to stay cool? Mia and Sydney say to stay away from crochet. 
"Crochet pieces can get super itchy when you're sweating in the crowd," Mia said. "And when it gets wet, it stretches out and is just uncomfortable."
Start a Conversation 
For shy ravers, huge crowds can be intimidating. To help feel more comfortable in the rave space,  Sydney and Mia recomend using your accessories to break the ice. 
Rave candy — commonly known as "friendship bracelets" — is a powerful accessory in the festival scene, as they're often traded throughout the night. 
"If you see someone else with bracelets on, it's such an easy icebreaker," Sydney said. "You can just say, "Hey, do you want to trade candy with me?" and you form a friendship and connection from there."
Accessories that glow or light up are another excellent conversation starter. Bringing a glow-up bag or stuffed animal or donning a pair of light-up kitty ears is another great way for shy ravers to immerse themselves in the scene while also making friends. 
Stand Out in The Crowd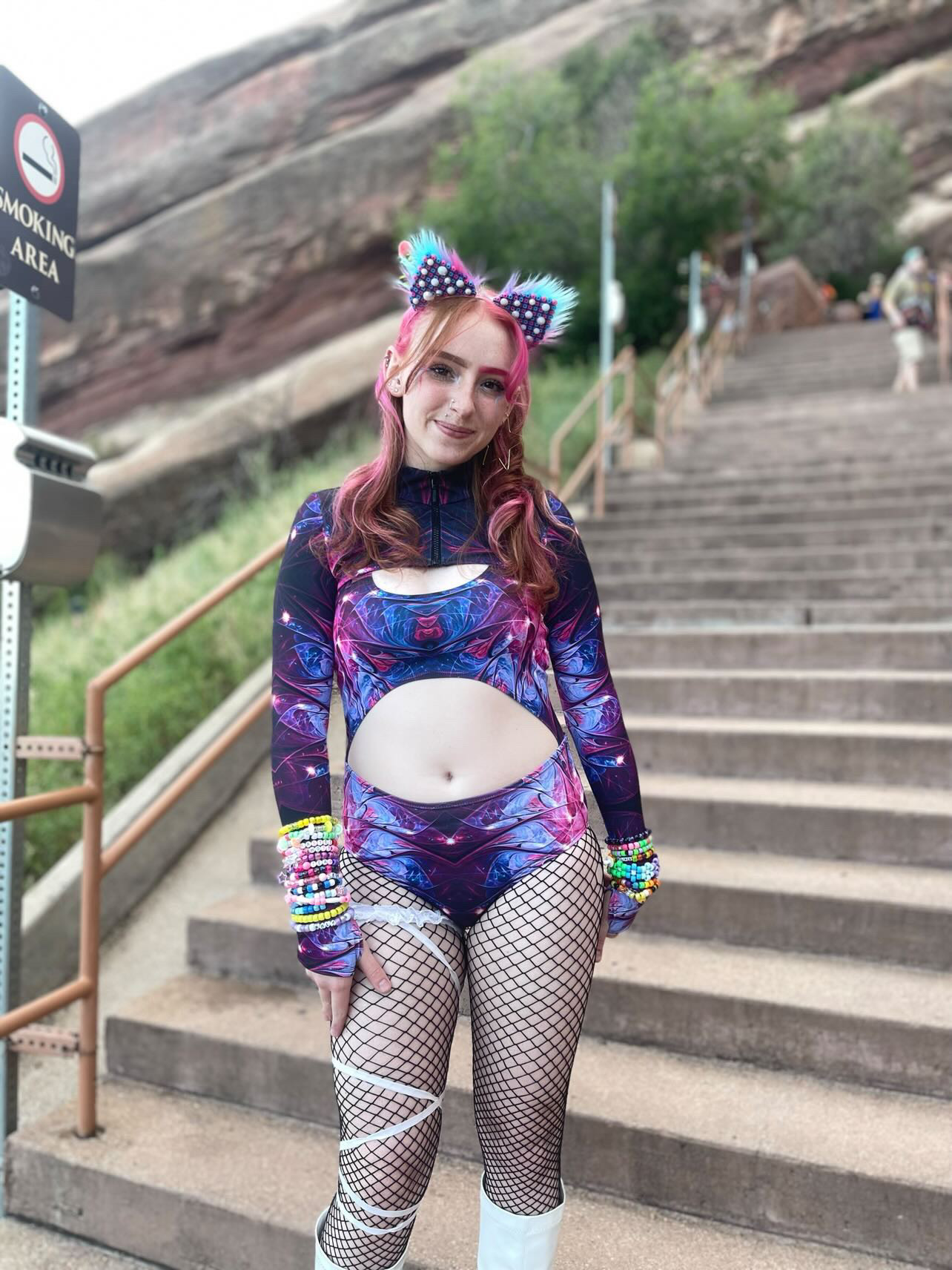 Glowing accessories aren't just great for starting conversations but they can also be a convenient way to stand out in a dense crowd. 
In particular, Sydney and Mia drew attention to a unique group of local ravers who use light-up creatures to connect with others and find their friends if they get lost in the crowd.
"When you're in a group and you get separated, you just put the creature in the air and your friends can find you," Mia recommended. 
Special shouts to Laundry and Dishes, Mia and Sydney's personal light-up creatures
Stay Safe with Practical Essentials
Staying safe and comfortable is essential to surviving long festival days. 
"You have to look cute, but you also have to take care of yourself while you're doing it," Sydney said.
For long days on your feet in a loud environment, it's critical to protect your ears and feet and stay hydrated. Sydney and Mia recommend necessities such as earplugs and insoles to make it through the night comfortably and safely. 
Additionally, Vortex will have several water bottle filling stations throughout the JunkYard so attendees may bring empty refillable hard plastic water bottles into the venue. 
Be Comfortable and Express Yourself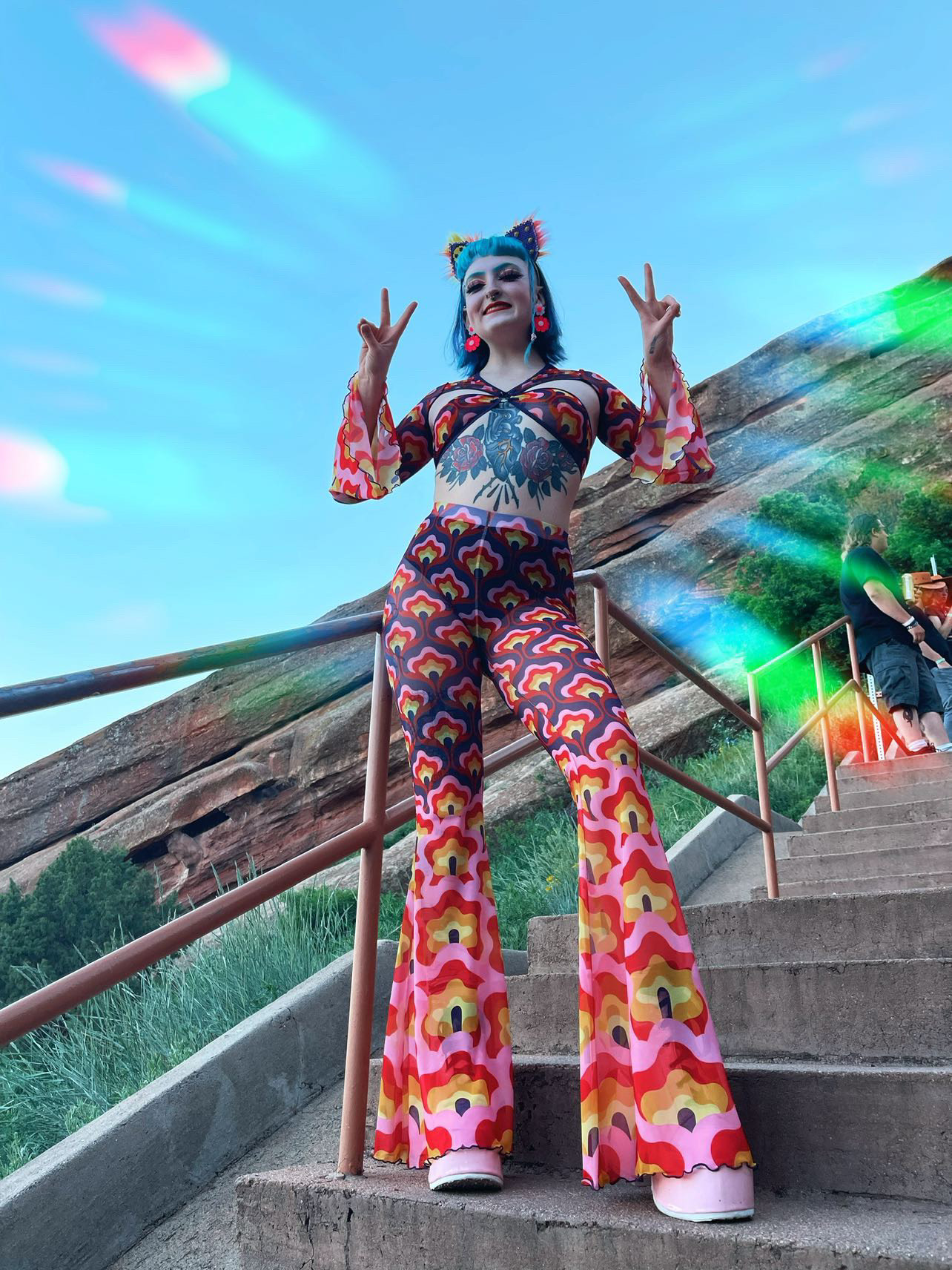 Above all else, Vortex is a space to express yourself. While festival fashion leans toward colorful and eclectic, Sydney and Mia encourage Vortex goers to stay true to what makes them feel most comfortable and confident. 
"If you don't know what's going on, it's the worst thing to be overwhelmed with the scene and then feel like, "What am I wearing?'" Sydney said.
And with raves characteristically being a judgment-free zone, the possibilities are limitless. 
 "What's so beautiful about the rave scene is that everyone's welcome and it's such a fun and inclusive space that you can just wear whatever you want," Mia said. 
"No one will judge you — you feel ok wearing pasties in a crowd of 70,000 people," Sydney added. "Or you can just wear blue jeans and also be comfortable that way."
Ultimately, for beginners in the scene, Vortex is an excellent place to gather inspiration for your future festival fashion. Seeing others' unique self-expression could spark creativity and inspire confidence for future looks. 
"You have to go and see what it's all about and then once you start going, you start seeing these gorgeous people with fur coats and platforms with their butts out, thriving," Syndey said. "And you're like 'I want to be that awesome and confident.'" 
Vortex hosted by Meow Wolf takes place August 25-27 at The JunkYard in Denver. Tickets can be purchased here. 
Related Posts