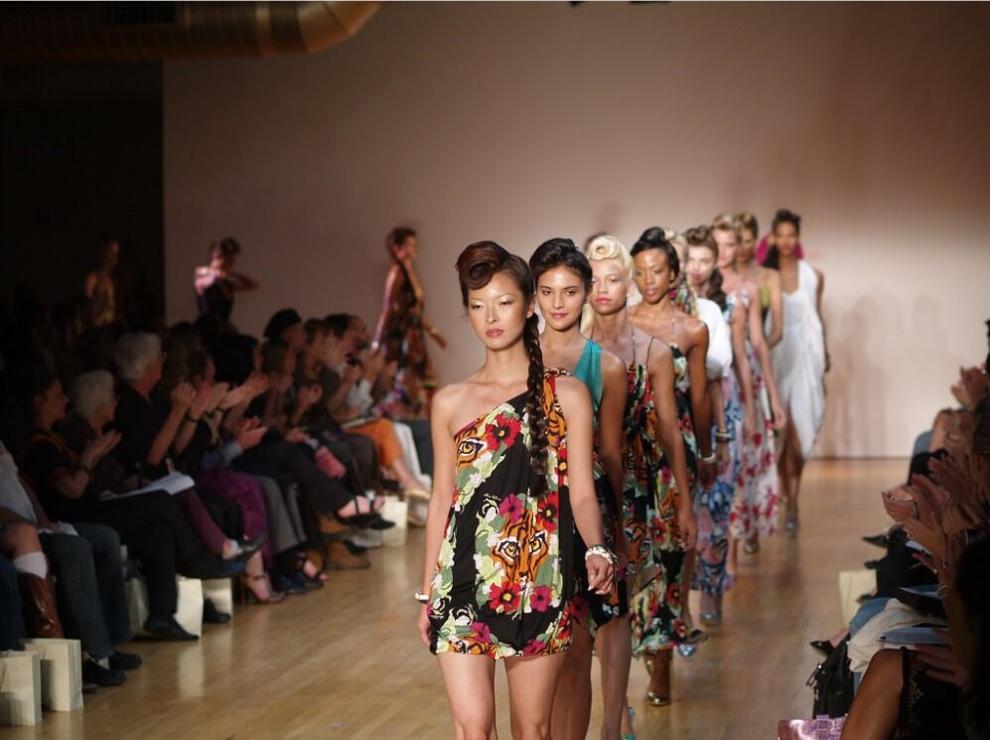 One of the biggest fashion events in the world is New York Fashion Week. It takes place twice a year in September and February with attendees from around the world. This was the first winter show since COVID-19 that showcased all in-person shows and the turnout was gigantic. 
With 74 shows across a six-day span, everyone from A-list celebrities to never before seen designers took the stage. This season's shows varied in a mix of traditional, more unique and very outgoing presentations. 
"While many collections emphasized everyday wearability, with designers including Gabriela Hearst, LaQuan Smith and Sandy Liang showing clothes that could go from runway to closet, others such as Rodarte and Thom Browne instead put forward more whimsical ideas," a CNN Style article wrote. 
Rodarte, a higher end clothing brand that can be found at Saks and Neiman Marcus, went with a "dark fairytale" style collection to kick off the week on Friday. Many looks were presented with wings and dark makeup to enhance the gothic theme, even though many pieces had a lot of color. Euronews described the show as "The Black Swan effect" considering two sisters who work for Rodarte – Kate and Laura Mulleavy – designed tutus for the 2010 film "The Black Swan."  
Another very unique show from the week was by designer Thom Browne. The outfits and makeup resembled something very circus or space like with unique makeup and vibrant colors and patterns. The show was titled "Tick tock, tick toc," and according to browne-fall-winter-2023-runway-fashion-show-nyfw-looks">L'officiel "Inspired by 'The Little Prince,'Browne reminds us to break free from monotonous routines and embrace a childlike wonder." Many looks contained clocks. Whether they were on shoes, briefcases or just carried on the runway by a handle, the theme of the show was apparent. Browne incorporated a lot of layering into this season's show as well by putting unlikely pieces together and topping them off with a jacket or coat. Although some designs were definitely out there, the detail and uniqueness of the pieces is quite admirable. 
A show that was truly wild was the Collina Strada collection, titled "Please don't eat my friends." Models were decked out in various animal prints, pictures of animals, and many even wore masks and prosthetics. Some even acted like the animal they were dressed as on the runway. "Imagine "Animal Farm" meets "The Wind and the Willows" meets a spirit retreat, and you'll get the idea. Now instead of just making an animal avatar for your online self (which is, after all, an identity play), you can channel one IRL too," The New York Times week.html">wrote. The designer behind Collina Strada, Hillary Taymour, used her set to promote her eco-friendly line by casting a light on animal abuse. Many clothing pieces and accessories in high end fashion are made from animals. Fur coats, leather bags, even alligator skin pieces. Despite the New York Post categorizing the show as the "Biggest Nightmare", Taymour definitely got the attention of people worldwide. 
Although several other shows throughout the week made big statements, these three were the talk of the town by critics everywhere. Some people loved the sets, others hated them but the creativity and time that went into the outfits, makeup, hair and accessories, is nothing to be ignored.
Related Posts